The Coyote Way: Going Back Home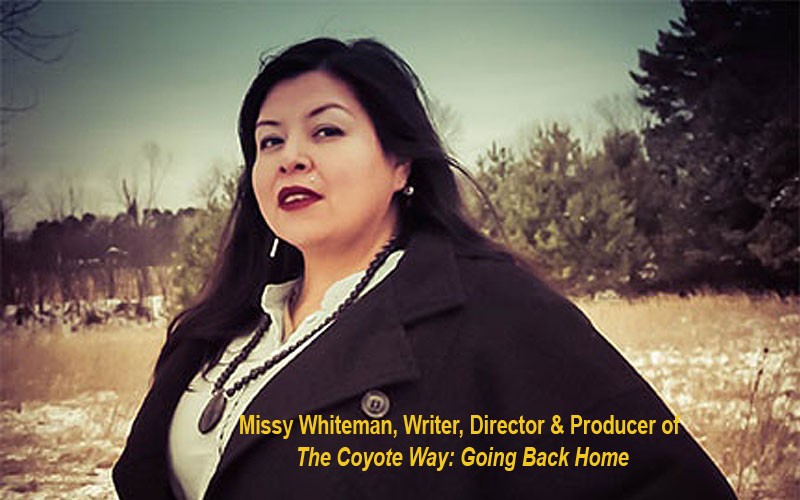 Sundance Native Lab Director Seeks Funds To Complete Powerful Short Film
The Coyote Way: Going Back Home is a docu-narrative about young Native people and spirituality.
Take this opportunity to support a Native American woman, Missy Whiteman. She is the writer, director and producer of The Coyote Way: Going Back Home. Missy, (Northern Arapahoe & Kickapoo Nations) grew up in Minneapolis, MN where early experiences in the Native Arts community helped her to develop as a young artist. Her artist father Ernest Whiteman taught the importance of the visionary process and to see the world though an artist's eye.
Missy is using https://www.kickstarter.com to raise funds to complete the project. Her goal is to raise $10,000. As of today, nearly $8,000 has been pledged. The funds raised will cover editing, color correction, original music score, sound mastering and PR costs for The Coyote Way:Going Back Home.
The Coyote Way: (Going) Back Home is a short sci‐fi/docu-narrative film about a young boy named Charlie, who must make a life changing decision to join a Native street gang or begin an epic pilgrimage that will reveal the truth of his existence.
In 2012, the Concept Trailer was released to help gain visibility and support for production.  Fortunately, in 2014 The Coyote Way: Going Back Home was a project selection by The  Sundance Native Lab/ Fellowship to help further develop the concept, story and script.  This was the spark that was needed to make Coyote come alive. Later that year support from Jerome Foundation and Tiwahe Foundation helped move the film into production.  In September of 2015, production commenced with a stellar cast and crew and wrapped principal photography in October of 2015. This project promises to break new ground with its unique cinematic style and add to the cultural conversation about the urban Native experience.
Read more and pledge support at https://www.kickstarter.com/projects/tcwgoingbackhome/the-coyote-way-going-back-home