120th Annual Arlee Powwow Celebration 2018
Date/Time
Date(s) - 07/02/2018 - 07/08/2018
All Day
Location
Arlee Powwow Grounds
Categories
Tags 120th Annual, Arlee 4th of July Powwow, Arlee Powwow Grounds, Montana
The Arlee Powwow Esyapqeyni is the premier annual celebration of the Salish and Pend d'Oreille tribes, sponsored by the Confederated Salish and Kootenai Tribal Nation. Join us at the Arlee Powwow for traditional dance competitions, singing and drumming and a big July 4 parade. There are also many vendors with hand made beaded crafts and food booths, which include a variety of Indian Tacos for sale.
This historic event is organized to carry on the traditional ways of the generations that came before us who who decided that if the Esyapqeyni was called a Fourth of July celebration, we could carry on our traditional ways without the threat of army intervention and persecution. The Arlee Powwow is the longest running tribal celebration in America.
Grand Entry is Friday afternoon. The first competition Grand Entry will be Friday evening at 7:00 pm. Other Grand Entries are on Saturday afternoon, Saturday evening and Sunday afternoon.
The powwow grounds are located just east of Arlee, Montana and about 20 miles north of Missoula on Highway 93.  There will be signs from the road to help guide you. The powwow officially begins on Friday, with "Camper's Day" being Wednesday, and Thursday reserved for the Memorial Procession.
Willie Stevens, Chairman 406-270-6958, willies@cskt.org
Monday, July 2nd – Camp Day
Tuesday, July 3rd
| | |
| --- | --- |
| 5:00pm | Feed hosted by Esyapqeyni Committee |
| | Deadline for applications for Miss Salish-Pend d'Oreille 2017-2018 |
| 7:00pm | Memorial (no gambling until after memorial) |
| | Material Wagers Stickgame |
| | Gambling may begin |
| 8:00pm | Registration for Dance and Singing Contests opens |
Wednesday, July 4th
| | |
| --- | --- |
| 1:45pm | Feed hosted by Esyapqeyni Committee |
| 2:00pm | First Grand Entry |
| | Snake Dance |
| | Veterans Honoring |
| 12:00am | Retire colors |
| | Dancing and singing continues |
Thursday, July 5th – Veteran Powwow
| | |
| --- | --- |
| | Presentations during the day |
| 2:00pm | Second Grand Entry |
| | Old Style Dance: Scalp Dance, Lost Article Dance, Veterans Honor Dance, and other traditional dances |
| | Dance specials (TBA) |
Friday, July 6th
| | |
| --- | --- |
| 12:45pm | Drum Roll Call |
| 2:00pm | Third Grand Entry |
| | Dance Competition begins |
| 7:00pm | Fourth Grand Entry |
| | Dance competition continues |
| 11:00pm | Competition registration closes |
 Saturday, July 7th
| | |
| --- | --- |
| TBA | 3-on-3 basketball tournament at Thomas Lyles Memorial Court |
| TBA | Walk/Run |
| TBA | Youth 17-under Stickgame Tournament |
| TBA | Native games, arts and crafts, and other activities |
| 1:00pm | Fifth Grand Entry |
|  6:45pm | Drum Roll Call |
| 7:00pm | Sixth Grand Entry |
| | Contests in all categories |
| | All drums |
| 12:00am | Retire colors |
Sunday, July 8th – Selis/Qlisqe Day
Championship Sunday, last of competitions
| | |
| --- | --- |
| | Honorees of the 120th Esyapqeyni |
| | Crowning of Miss Salish-Pend d'Oreille 2018-2019 |
| TBA | Stickgame Tournament |
| 11:00am | Mass in dance arena |
| 12:45pm | Drum Roll Call |
| 1:00pm | Final Grand Entry |
| | No dinner break, dance til winners announced |
| 11:00pm | Home Sweet Home |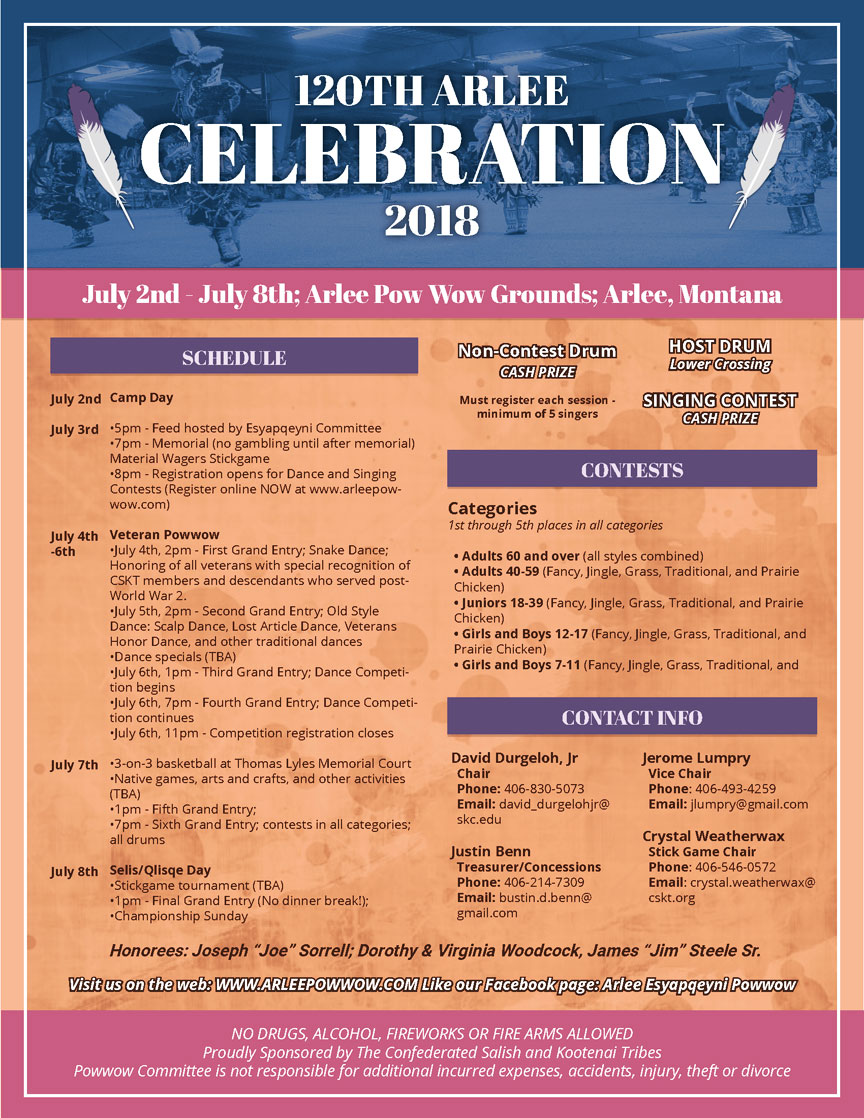 About Author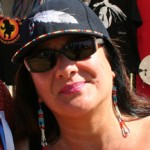 Becky Olvera Schultz is an artist and photographer whose background includes journalism, advertising and marketing. She has been in involved with the powwow circuit for several years, participating as a vendor and as a member of powwow planning committees. For more information on Becky, visit her art site at www.native-expressions.com