John Trudell, Native American Activist, Poet, Actor, Musician & Author Passes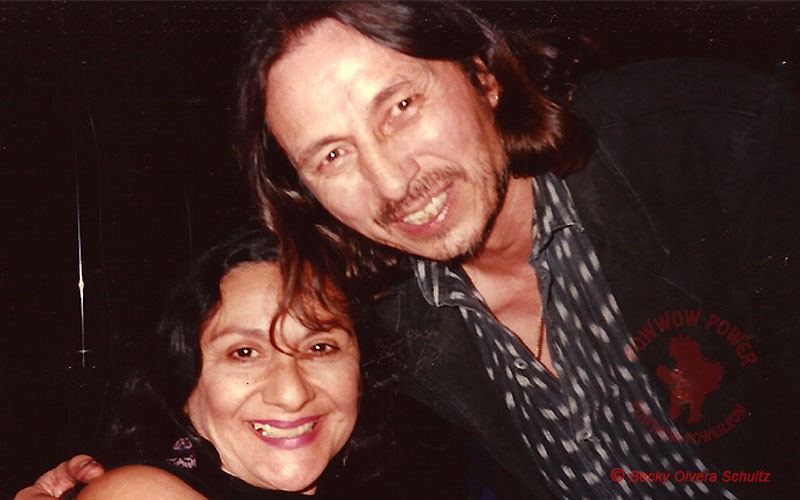 Native American Community Loses Long Time Indigenous Advocate
Sadly, John Trudell passed over to join his ancestors on December 8. I had the pleasure to meet John several years ago when he was in Santa Cruz County, California, when he spoke at the Vets Hall, where the above photo was taken. He was one of the most intense people I have ever met. The Native American community has lost one of their most important, interesting and influential individuals.
John served in the U.S. Navy in the early years of Vietnam.He was the spokesperson for the United Indians of All Tribes takeover of Alcatraz starting in 1969, broadcasting as Radio Free Alcatraz. During the 1970s, he served as the chairman of the American Indian Movement based in Minnesota. After his pregnant wife, three children and mother-in-law were killed in 1979 in a fire at the home of his parents-in-law on the Shoshone-Paiute Tribes Duck Valley Indian Reservation in Nevada, John turned to writing, music and film as a second career. He appeared in three films in the 1990s. A documentary, Trudell,  was made about him and his life as an activist and artist in 2005. Read more at Wikipedia.
John's family released this statement:
"We know all the people who love John want to know about plans and how to pay their respects. John left clear instructions for his passage and for what he wanted to happen after he crossed over. He did not want a funeral or any kind of single gathering. He also did not want his family to write a standard style obituary or 'toot his horn.' He didn't want to tell people how to remember him.
"His wishes are for people to celebrate life and love, pray and remember him in their own ways in their own communities.
"With love for all."
See photos from the Trudell family archives at Indian Country Today Media Network.