Content may not be duplicated without permission from Powwow-Power.com.
PowWows! Welcome To PowWow-Power.Com, Your Resource For Native American PowWows & The Native American Community
WHAT IS A POWWOW?
A powwow is a Native American gathering, a social event when both native and non-native people gather together for drumming, dancing, singing, shopping from arts and crafts vendors, seeing old friends and making new friends. Read more…
Included here is a brief History and Description of a powwow, basic description of powwow Dancers, Drums and Songs as well as basic powwow Etiquette.
This site is a culmination of my experiences on a powwow committees, attending powwows, being a powwow vendor, my photography and art. Hopefully this information will be useful to anyone seeking powwow basics, especially those who may have never experienced a Native American powwow.
Support the Free Powwow Calendar Listings by making a purchase from Native Art Gift Shop. All orders will receive a packet of complimentary white sage. If you are interested in advertising your powwow or business on this site or in an upcoming newsletter, feel free to make contact.
Thank you for visiting Powwow Power,
Becky Olvera Schultz.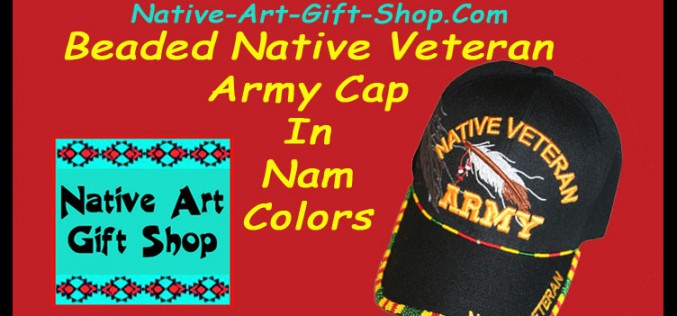 Native Veterans
Now Available at Native Art Gift Shop: New Beaded Native Veteran Army Cap In Nam Colors