Remembering Paul Kirkwood, Lead Singer of Drum & Feathers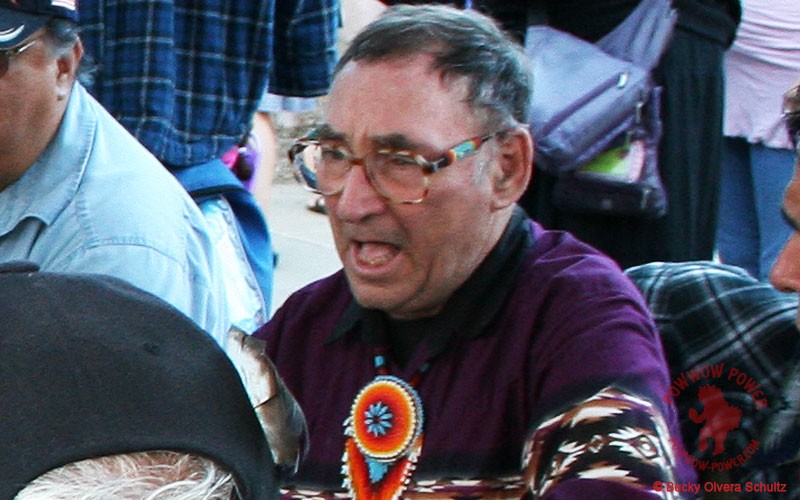 Shawnee Lead Singer of Southern Drum, Drum & Feathers
12/10/1947 – 2/16/2016
I met Paul many years ago when I was working on a powwow committee. We stayed in touch between powwows and every year he always sent us a beautiful Native American Christmas card. We enjoyed many conversations at powwows and he always allowed me to photograph Drum & Feathers. He was always a gentleman and gracious. This last Christmas was the first time we didn't receive a card from him but we sent our usual Happy New Year photo card to him in January.
On January 22nd he left me a long cheerful message on my voicemail thanking us for the card and apologizing for not sending us his usual Christmas card. He sounded really upbeat and he expressed how he was looking forward to getting back to his Drum doing powwows and wondered which powwow my husband and I would be going to next so he could see us. 2015 had not been a good year for him as he had a kidney transplant but he said that he was feeling so much better now. It was a wonderful last message from Paul. Unfortunately, because I had been very ill since Christmas, I did not return his call right away as I was doing very poorly. Paul passed before I was able to speak with him again. But I am ever so grateful to have the beautiful message he left me as he sounded so happy. We will miss you, Paul.
Back in 2006, Paul gave me the history of Drum & Feathers. I'd like to share that now in honor of Paul and his kindness, integrity and his commitment to the Native American Community.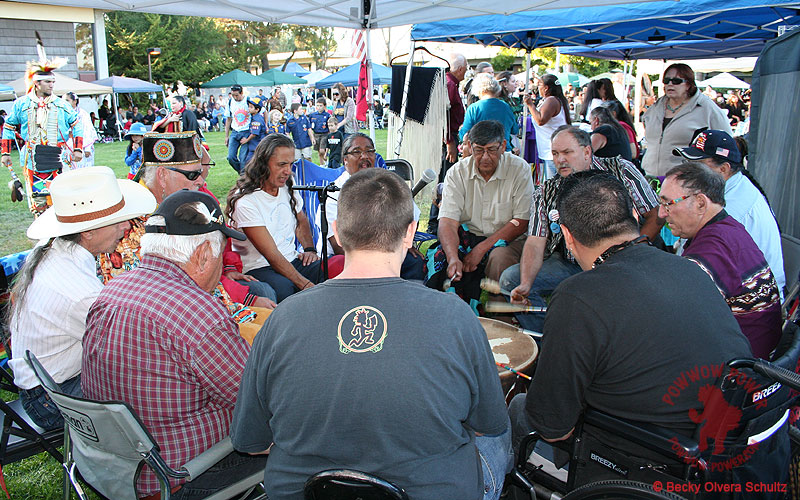 Drum & Feathers
Southern Drum
Lead Singer, Paul Kirkwood
12/10/1947 – 2/16/2016
Drum & Feathers is one of the oldest Drum groups in the Bay Area. Its roots began in the 1950's when the U.S. Government relocated hundreds of Native Americans to the Bay Area. George Woodard, Sioux Elder, organized the Santa Clara County American Indian Council and began to sponsor monthly Powwows at Redwood School in Saratoga.
The Drum was originally called the Bay Area Southern Drum as its founding members were all from the Kiowa Tribe. Since it was the only Powwow Drum in the Bay Area at that time it was comprised of both Northern and Southern singers.
At the Powwows each group took turns singing on the same drum. Later, some singers left the Drum and formed their own Drum group such as the Sun Eagle Drum (Pueblo), the Mockingbird Drum (Dine) and the Four Winds Drum (Sioux). Frank Ahkeabo (Kiowa), one of the Drum's founders, then changed the name of the Drum to Drum and Feathers and the members included Burley Quoetone, Lanny Quoetone, Tommy Tonemah, Mack Silverhorn, Frank Ahkeabo, Charlie Anque, Rudy Yeahgo, (All Kiowa and members of the Kiowa Gourd Clan), Sandy Saraceno and Jake Garcia (Pueblo), Harold Cedartree (Northen Arapaho and member of the Star Hawk Gourd Society), Ray Hunt (Acoma Pueblo/Gourd Dancer/Drum maker), Mead Chibity (Comanche) and Ken Folven (married into the Sioux Tribe).
Drum & Feathers has always been an open Drum. Any singer is welcome as long as he respects the Drum. Over the years members have been full blood, mixed descent and even non-Indian.
Drum & Feathers is also a community service organization and very family oriented. Over the years they have performed at countless education programs, shows, demonstrations, graduations, weddings, etc.; whatever was needed in the community at large.
Our children are always ever present and important to us as they are our future. We believe that our children should adopt the best of both worlds and that education is the key to every child's success. Ray Hunt loved children and wanted to make sure they learned their Native traditions well and in turn pass them on to their own children. When Drum practice was held at Ray's house the children would come and practice dancing. On another night Ray would teach craft classes. Ray's specialty was teaching the Eagle and Hoop dance, leather working, beadwork and drum making. Many adults active in the community today remember Ray as their teacher.
Ray Hunt Memorial Award: The Ray Hunt Memorial Award is an important tradition in our Drum group. At Ray's passing in 1975 Drum and Feathers began to sponsor the Ray Hunt Memorial Award in Honor of his love of children. It is awarded to the outstanding young person carrying on their Native traditions and being an example of such to the other children. An Elders Committee selects a person has been participating regularly at the local Powwows, dressed and dancing in their traditional outfits or singing, carrying on their traditions, being active in Native American activities in their communities and schools and also getting good grades.
The Award is presented annually at a Spring Powwow here in the Bay Area. The recipient is presented with a personal trophy and jacket patch to keep permanently. Their name is also placed on a large perpetual trophy with all the other past winners and they are allowed to keep the trophy for one year. It is returned and passed on to the next recipient.
With this same Award, Drum & Feathers also honors our Elders because it is our Elders that teach us our traditions. So each year we also honor an Elder who has passed away and is respected for his/her love and help to children. Their name is also placed on the perpetual trophy with all the past winners. The Ray Hunt Memorial Award has been presented by Drum and Feathers for 25 years and is well known all over the country.
Host Drum: Drum & Feathers has been honored and proud to be Host Drum at many Powwows over the years. The Drum was the first Host Southern Drum at the first Stanford University Powwow. The Drum organized and sponsored the Indian Market Day in the 1980's, which evolved into the annual De Anza Community College Powwow. The Drum was its first Host Drum at the annual Summer Festival in San Jose for many years. It was the first Southern Host Drum at the Annual Elders Powwow and again serving as Host Drum many times. The Drum was also the first Southern Host Drum at the annual Red Road Powwow at Casa de Fruita in Hollister, CA.
In the early 1980's the Drum organized and sponsored Powwows at the Jefferson Youth Center in Santa Clara for several years. Drum & Feathers has participated at Powwows all over the Bay Area, California, Oregon, Nevada and Hawaii. Many of our members are intertribal dancers and Gourd dancers and have represented Drum and Feathers all over the United States.
For several years, Drum & Feathers has been Host Southern Drum at the Grenville, California Mountain Maidu Powwow. In 1999 the Drum was honored to host a Powwow and Gourd Dance at Auburn, CA. Drum and Feathers has also participated as a guest Drum at the Siletz and Grand Ronde Powwow in Oregon and at the Chemawa Indian School in Salem, Oregon. In addition to the Drum's traditional Powwow commitments, the Drum traveled to Hawaii and performed at the annual Honolulu Powwow.
Locally the Drum as served as Host Southern Drum at many Powwows. Some of these have included Evergreen Valley College, De Anza Community College, San Jose City College, Foothill College, West Valley College, Fremont Unified School District Indian Education Powwows, San Jose Indian Health Center Powwows and many other venues over the years.
Throughout the years singers have come from many nations; Athabascan, Cherokee, Cherokee/Choctaw, Chiracahua Apache/Yaqui/Tarosco, Karok, Kiowa, Lumbee, Mescalero Apache, Nebraska Ponca, Dine, Papago, Tohono Odom, Hochunk and Shawnee. Members are also actively involved in their native communities working in Indian Education and Health Services, EMQ program, TANF program, Powwow committees and political lobbying for native benefits.