Honor, Remember All Veterans Of All Cultures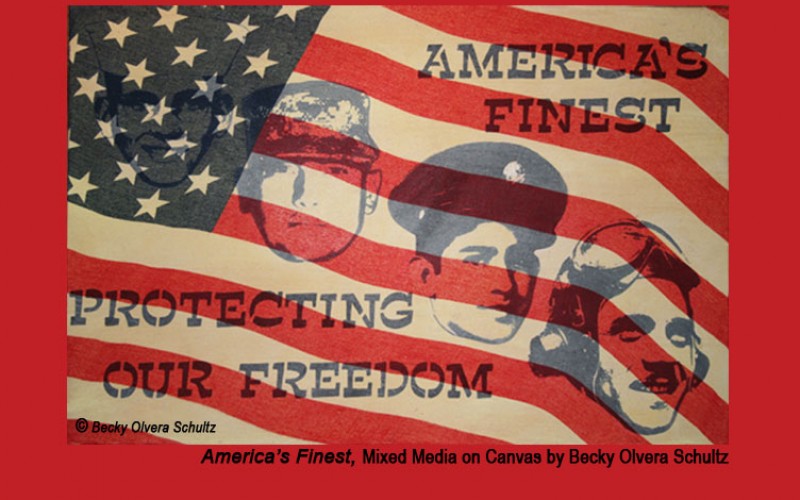 All veterans, no matter what culture or race must be honored for their service.
I'd like to take a moment to thank all veterans who have fought to protect our freedom and to pay tribute to my father, who sadly passed earlier this year at age 95. My father, Lupe Olvera, was a WWII Army Veteran who was extremely proud of his service during WWII. When I was growing up my father never spoke of his service or the war. It wasn't until I was an adult for many years that he shared with me how horribly he and other brown and black skinned soldiers were treated. I could understand why he didn't want to talk more about it. Back then, if you weren't white you were considered a second class citizen, even if fighting for the United States like all the other soldiers.
As the years past and my father became active in his local VFW Post in California, I believe the painful memories of how he was often treated dissolved to the point where he focused on his service, the good memories and the proud survival of his combat during WWII. He served in the Army from 1941-1945 in the 36th Infantry Division, Company A, 111th Engineer Combat Battalion. He endured 400 days of combat in the Battle of Campaigns of Naples-Foggia, Rome-Arno, Southern France, Rhineland/Battle of the Bulge and Central Europe. His decorations were EAME Campaign Medal with 5 Bronze Stars and Bronze Arrowhead, American Defense Medal and Good Conduct Medal. After being discharged from the Army he married my mother and enlisted in the Army Air Force and served from 1946-1949 at Holloman Air Force Base in New Mexico.
To me and many in our community he was a hero. He enjoyed being treated like a celebrity. He never went anywhere without his cap that was embroidered with "WWII Veteran". Strangers always came up to my father and thanked him for his service and shook his hand. Once while out to dinner, a man come up to him, laid down ten dollars and said, "I'd like to buy you a drink." I loved that complete strangers had so much respect for my father and he glowed from the respect given to him.
I created the above and below art pieces for the Veteran Resource Center in Santa Cruz, CA, the below piece featured my father and the above features my father and other veterans. We were honored the Veteran Resource Center commissioned the works for their permanent display.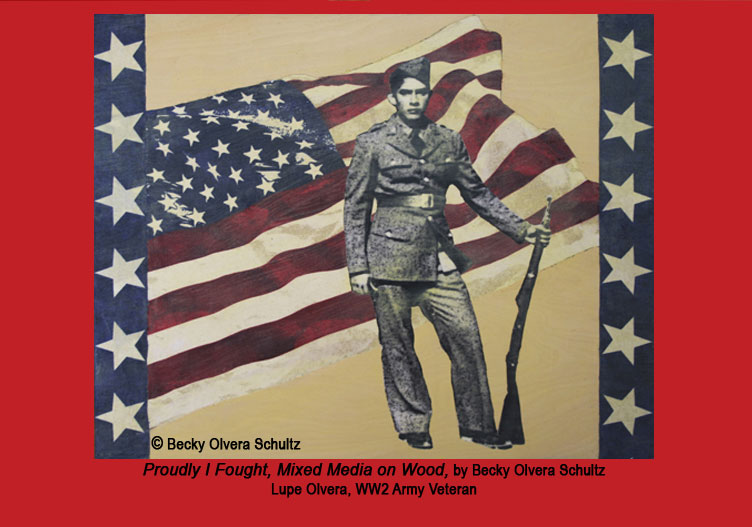 Today people native to the Americas and other ethnic groups are treated with much more respect than in the past, thank goodness. Everyone should take a moment to remember those veterans who gave the ultimate sacrifice and to thank those you may know who have served and are still serving our great country.