Interview With Northern Traditional Dancer Percy Edwards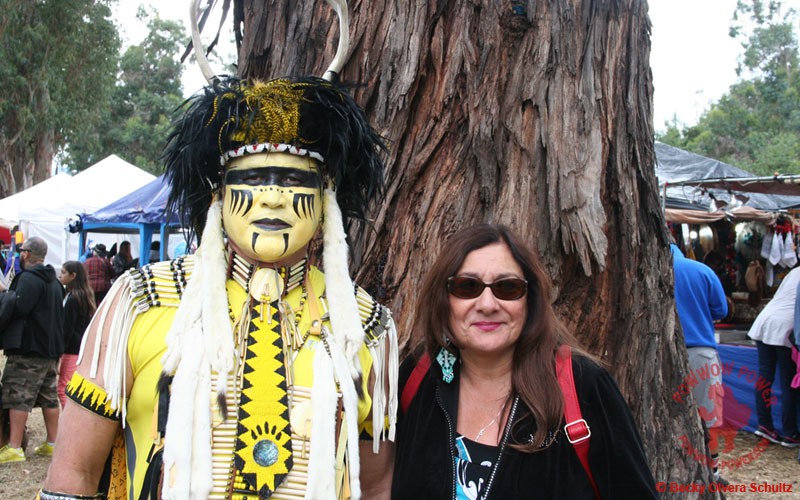 Northern Traditional War Dancer
I met Percy long ago and have enjoyed photographing him at several different powwows over the years.  Recently, at the Stanford powwow, we had a nice visit and I thought it was time to feature him on my website.
PWP: How long have you been dancing?
PERCY: 10 years
PWP:  Do you dance for competition?
PERCY: No. I don't do it because I think if I start doing it, it's gonna become a job and not fun.
PWP: You describe yourself as a Northern Traditional War Dancer. Can you elaborate on that?
PERCY: Yes, a Northern Traditional War dancer has an eagle bustle on back and we have leggings and angora and their certain things that make a Northern dancer and we're the oldest style of dancing.
PWP: What are your personal reasons for dancing?
PERCY: I dance for the people and for the kids and get them out there dancing and I've mentored several kids over my short tenure, it's an excitement I have and I love it.
His wife Shelley adds: He really enjoys getting the kids out there dancing with him. Sometimes he looks like the Pied Piper out there with a bunch of little kids following him around.
PWP: About how many powwows a year to you attend where you dance?
PERCY: Fifteen.
PWP: Which states?
PERCY: Washington, New Mexico, California, Oregon and Nevada.
PWP: Do you have a favorite powwow?
PERCY: Yes. Pechanga. 60,000 people and you dance on golf greens.
PWP: You mentioned you now have ten different dance outfits. Do you make them all yourself?
PERCY: Yes. But my mom did my beaded vest.
PWP: Do you get your native blood from your dad or mom, or both?
PERCY: Both. My mom is Sanpoil and little bit of Nez Perce and my dad is Arrow Lakes. Colville Confederated Tribes, its twelve different bands put together.
PWP: When someone asks what's your nation,what do you tell them?
PERCY: Colville.
PWP: Can you describe some of your outfits and is there a story behind the creation of each one?
PERCY: My first one was a dream and it went from there. It was a badger. It was like four days in a row I was dreaming of dancing. I had paint on my face and I was dancing with the old ones. Every single night was the same dream. And finally I woke up Friday morning and turned to my wife and said, "I'm going to start dancing". I saw the dream and I made the dream. It was a badger. It happened to be we were heading for Wyoming and I saw the perfect headdress pelt; the badger was perfect and I just went from there. And my brother, his first advice was, "Don't copy anybody". And that is one thing I didn't want to do. I make all my war clubs, everything, and dance sticks. I have about sixty war clubs.
PWP: Do you have a favorite dance outfit?
PERCY: My cougar.
PWP: When you dance at a powwow, how many different outfits to you usually dance in?
PERCY: Two. It depends if it's a three day or if I'm the head man I'll do three outfits.
Here are a few of Percy Edwards' dance outfits:
See more of Percy's outfits at these links:
http://www.auburnjournal.com/article/10/20/15/pow-wow-power-ceremony-tribute-tribal-art-culture
http://www.appeal-democrat.com/news/marysville-winter-pow-wow/image_6607c242-96df-11e3-9ea3-0017a43b2370.html
https://www.pinterest.com/Catechsim/native-american/