First Ambassadors: Rare Lithos of Tribal Leaders Visits To Washington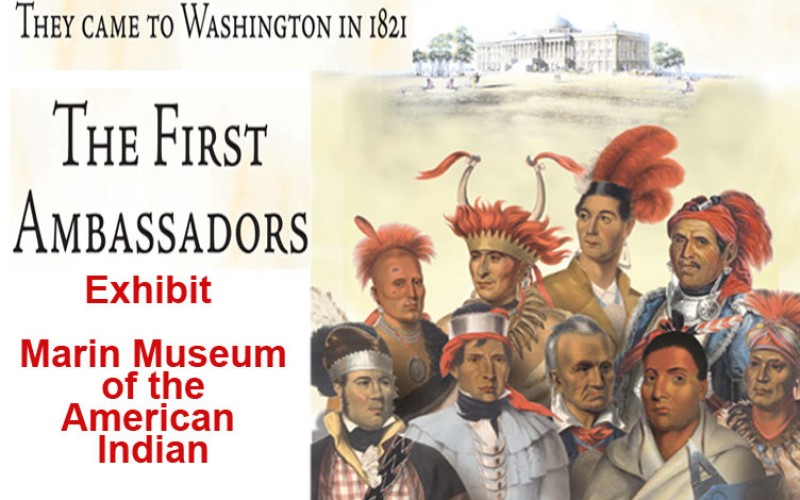 The First Ambassadors: A Remarkable Look at Long-Forgotten History.
The Marin Museum of the American Indian in Novato, California, has extended their current exhibit until the end of December, 2015.
Between 1821 and 1842, Thomas McKenney, the U.S. Superintendent of Indian Trade, commissioned Charles Bird
King to paint portraits of courageous and distinguished tribal leaders after their arduous journey from their villages to the City of Washington for peace negotiators. A fire at the Smithsonian Castle destroyed the paintings, but an 1836 series of lithographs survives. The exhibit displays more than thirty of those rare lithographs and their stores.
The Marin Museum of the American Indian is devoted to Native culture and it is the only one in the San Francisco Bay area. It is located in Miwok Park. The museum offers programs for children that explore the history and culture of Native Americans. The museum is a nonprofit and donations are appreciated. Become a member and/or donate: http://www.marinindian.com/support.html
On a personal note, the museum has consistently presented diverse and interesting exhibits over the years. I'm proud to have had an exhibit there of my art masks in 2008, Masks of the Americas, which was a combined exhibit of my contemporary native inspired art masks and traditional masks from the museum's collection.
For more information on The First Ambassadors exhibit, call Executive Director, Colleen Hicks, at 415-897-4064, email office@marinindian.com or visit http://www.marinindian.com/services.html