"Tribal Voices", Petaluma Historical Museum Exhibit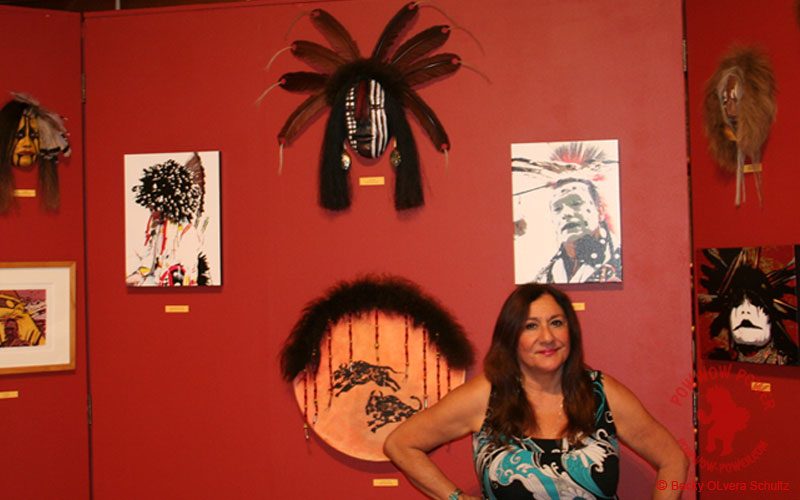 Combining Contemporary Art with Artifacts
Currently my artwork is featured in the museum exhibition, Tribal Voices, an expression of Native American culture combining contemporary artwork with Native American artifacts. Tribal Voices prompts visitors to see the links and continuities within the vast panorama of Native American art and artifacts and to consider it with fresh eyes. The intention is to shift how Native Art culture is exhibited and discussed.
I'm pleased to say that this is my 7th museum exhibition and welcomed the invitation to participate. On display are my mixed media Native American masks, photos from my Powwow Dancer series, giclees, a serigraph and a rawhide shield. To see more of my work, visit Native Expressions.
Also featured is the photography of Christine Cobaugh with images from her Spirit Dancer series and other works. See more of her work at Water-Spirit. Artifacts and interpretative panels are provided by the Federated Indians of Graton Rancheria. Items from the collection of historian Dan Brown are also on display. Colleen Hicks, Director of the Marin Museum of the American Indian, provided Plains Indian bustles, moccasins, a headdress and artifacts from the 1800's for the exhibit.
The Tribal Voices exhibit is on display at the beautiful Petaluma Historical Museum in downtown Petaluma. This former library was built in 1904 and was Petaluma's first library.
The exhibit opened June 3rd and will run until August 28th. The museum is located at 20 Fourth Street, Petaluma, CA 94952.  707-778-4398. Hours are Thursday–Saturday 10:00–4:00 and Sunday – 12-3.
At the June 3rd Tribal Voices opening Tony Redhouse, Navajo, performed a multimedia music concert in regalia in celebration of Petaluma's "Tony Redhouse Day".  Tony draws on ancient forms of musical expression using his voice, the drum, flute and various percussion instruments to create sacred space and harmony. My exhibit provided a back drop for his performance. Learn more about Tony Redhouse.